Why Mattress? Go and peek at Brother Lee's Easter diary!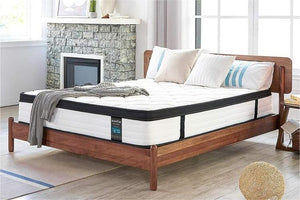 As Easter approaches, many people are looking for ways to refresh and revitalize their living spaces. One great way to do this is by upgrading your sleeping arrangements with a new mattress or mattress topper. Inofia, a popular bedding brand, offers a range of products to help you get the best possible sleep.
One standout option is Inofia hybrid mattress. This mattress combines the support of traditional coil springs with the comfort of memory foam, resulting in a balanced and cozy sleep experience. The mattress is designed with multiple layers of foam, each with its own purpose: some provide pressure relief, others support spinal alignment, and still others provide airflow to keep you cool throughout the night. The hybrid mattress comes in a range of sizes to fit your needs and budget, and it's a great choice for anyone who wants the best of both worlds when it comes to mattress technology.
For those who prefer a simpler sleeping solution, Inofia also offers a foam mattress. This mattress is made entirely of high-density foam, which provides a firm yet comfortable sleeping surface. The foam is designed to contour to your body, providing support where you need it most. Like the hybrid mattress, the foam mattress is available in various sizes, and it's a great choice for anyone who values simplicity and durability.
Finally, Inofia's three-fold mattress is an excellent choice for those who need a portable and versatile sleeping solution. This mattress is made of high-density foam and can be folded up into a compact size for easy storage and transport. It's perfect for camping trips, sleepovers, or for use as a guest bed in your home. Despite its compact size, the three-fold mattress is designed to provide a comfortable sleeping surface, with the same contouring and support as Inofia's other foam products.
To celebrate Easter, Inofia is offering a special promotion on all three of these mattress products. From now until the end of the month, customers can enjoy a discount on any Inofia mattress or mattress topper. This is a great opportunity to upgrade your sleeping arrangements and enjoy a more comfortable and restful night's sleep.
In conclusion, if you're in the market for a new mattress or mattress topper, Inofia is definitely worth considering. Their hybrid, foam, and three-fold mattresses offer a range of options to suit any sleeping preference or lifestyle, and their Easter promotion makes now an excellent time to buy. With Inofia commitment to quality and comfort, you can rest easy knowing that you've made a great investment in your sleep health.